Ricoh Aficio 1105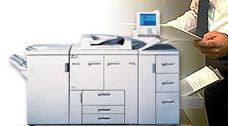 A Networked High Performance and Productive On-Demand Print Solution from Ricoh.
We use two (2) Aficio 1105 copiers which combines the productivity of an 105ppm digital imaging system with a fully networked, high-speed laser printer.
This Black and White Copier that has tabbing/inserting, four position stapling and integrated 3-hole or 2-hole punch capabilities.
Electronic files are a breeze with customer supplied disk in PC or MAC format. Document Server stores up to 250 jobs dynamically linking electronically created and paper-based originals that were scanned into memory.